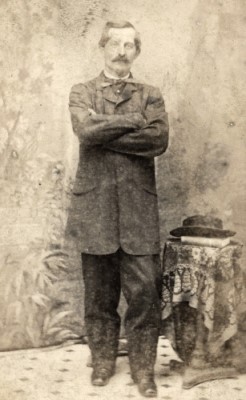 Acting Master's Mate Wm. W. Black, USS Genesee. Author's collection
The USS Genesee was a sidewheel wooden steamer built by the Boston Navy Yard, sponsored by Miss. Emily Dorr, launched 2 April 1862, commissioned 3 July 1862, CDR. William M. Macomb commanding.
She was reassigned from the North Atlantic Blockading Squadron, sailing 19 February 1863 for the Gulf of Mexico. She arrived in New Orleans on 7 March 1863 and spent the rest of the war in the squadron.
---
Deaths
| | Name | Rate/Rank | Date of Death | Age |
| --- | --- | --- | --- | --- |
| | James Cullen | Landsman | 24 February 1865 | 29 |
| ✚ ⋂ | Dr. Henry Livingston Dearing, M.D. | Acting Assistant Surgeon | 2 October 1864 | 29 |
| ✚ | Dennis Gleason | Private, USMC | 1 June 1865 | 25 |
| ✚ | William O'Connell | Landsman | 11 August 1863 | |
| ✚ | George Potter | Seaman | 26 March 1865 | 27 |
| 〰 | Joshua Ricks | 1st Class Boy (Contraband) | 22 May 1865 | |
Key
⚔ killed in action
★ prisoner of war
✚ died of disease or injury
ø died due to vessel loss
✹ died in ordnance accident
⋂ buried on land in marked grave
〰 buried/lost at sea
✎ transcribed letters of sailor/marine posted
---
---
Tweet